Logo
Last updated: April 22, 2020
Logo package
The package contains
RGB Logo (Web/Digital)
CMYK Logo (Print)
Logo variations
Main logo
The main version should be used whenever possible.
Inverted logo
The inverted version should be used on dark and busy backgrounds.
Alternative logos
The alternative versions should be used, when the logo wouldn't work on busy backgrounds.
Logomark
Only use this for situations where space is very tight, and where you will be unable to read the wordmark.
It is also allowed to be used as a big version of the logomark, if it is a faded background element.
Spacing rules
Spacing
To make sure the logo is not going to be placed too close to an edge, leave at least one of the logomark elements around the logo as space (safearea).
Minimum sizes
Web (RGB)
Minimum size 100px.
Print (CMYK)
Minimum size 25mm.
RGB
CMYK
Remember
As colors appear different on screen and print, make sure to use the right version of the logo.
Logo misuse
It is important that the appearance of the logo remains consistent. The logo should not be misinterpreted, modified or added to.
Don't rotate the logo.
Don't stretch the logo.
Don't use a different full or gradient color of the entire logo other than white/dark.
Don't use the main logo on similar or busy background colors.
Don't fade the logo.
Don't use a stacked version of the logo.
Don't use the logo without the logomark.
Don't change in the logo overall color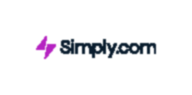 Don't use low definition usage
Don't outline the logo
SoMe and Favicon
Social Media profile image
For social medias the main logomark on white background can be used as a profile image.
Favicon
Use the logomark for the favicon.